LINX System
People suffering from GERD symptoms have medication options available to them. However, over time many patients experience a loss of efficacy in medication, and medications that used to control their symptoms no longer work well. In these cases, a surgical solution can be the best option to provide relief from painful and damaging symptoms. The LINX® system for GERD surgery is less invasive and more effective than traditional procedures.
How Does LINX® Work?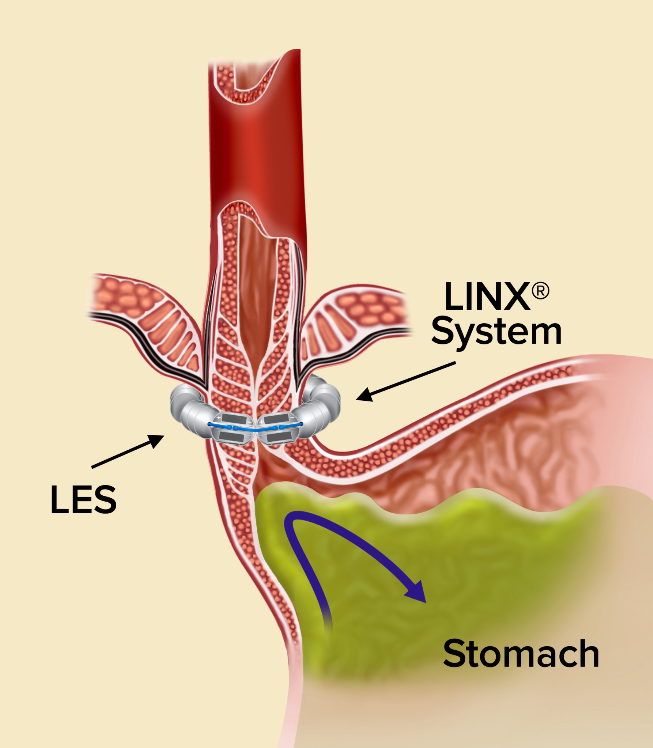 LINX® is a minimally invasive and effective treatment for Gastroesophageal Reflux Disease, or GERD. The LINX® system works by utilizing a ring of flexible magnets that opens when food or liquids are swallowed and closes once the food and liquid move safely through the LES and into the stomach. Instead of attempting to treat GERD symptoms with medications that are often ineffective, the LINX® System addresses the cause of GERD by preventing reflux. TLC Surgery's team of experienced surgeons and professional staff are dedicated to helping those suffering from chronic acid reflux or GERD. Get your life back on track and stop suffering from the often debilitating symptoms of Gastroesophageal Reflux Disease today.
The Benefits of LINX®
Studies have shown that:
85% of patients were able to remain free from GERD medication dependence.

99% of patients reported a complete elimination of bothersome regurgitation .

Heartburn was reduced from 89% at baseline to 11.9%.

Improved quality of life.
Am I a candidate for LINX®?
If you are suffering from chronic heartburn,  acid reflux disease, or have been diagnosed with GERD you may be a candidate for LINX®. Our team of dedicated specialist will help you determine whether or not the LINX® System is right for you.
Learn more about the LINX® System
For more information regarding LINX® and the symptoms of GERD, contact one of our medical specialist. We are dedicated to helping you find a solution to the pain and suffering often caused by chronic acid reflux.  Contact Texas Laparoscopic Consultants today, your health is our priority.

WATCH OUR ONLINE
SEMINAR NOW
ONLINE STORE

SHOP NOW
Your BMI:
BMI < 20

underweight

BMI 20 - 24.9

healthy weight

BMI 25 - 29.9

overweight

BMI 30 - 34.9

obesity

BMI 35 - 39.9

severe obesity

BMI 40 - 49.9

morbid obesity

BMI > 50

super morbid obesity
THE TLC DIFFERENCE
Discover what sets TLC apart from other bariatric practices.
Learn more