TLC Blog
Healthy Choices at Fast Food Restaurants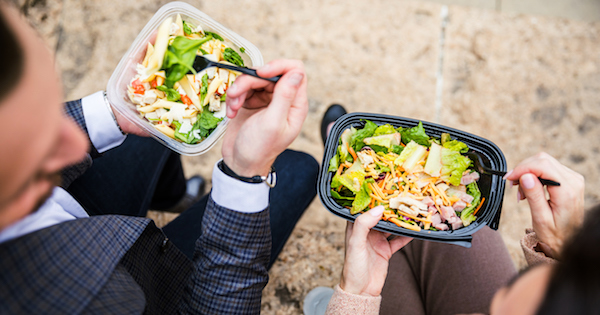 Although eating at fast food restaurants isn't ideal if you are watching your diet, sometimes it is inevitable. Perhaps you forgot to plan dinner one night, or your family has limited options while taking a road trip. Whatever the case may be, there are certainly options. Fast food restaurants have started offering healthy, tasty alternatives to the typical burger 'n' fries.
If you occasionally find yourself at the drive-through, try one of these healthy choices, selected by the Texas Laparoscopic Consultants team:
McDonald's
McDonald's has some great salad options, including the Premium Southwest Salad with Grilled Chicken (420 calories) or the Premium Caesar Salad with Grilled Chicken (375 calories). If you're craving a wrap, try the Grilled Honey Mustard Snack Wrap (480 calories). Or, you could order the Premium Grilled Chicken Classic Sandwich (350 calories) without the bun. Add a side of fruit and walnut mix (210 calories).
Subway
Try a 6-inch Subway club on 9-grain wheat bread (238 calories), skip the cheese and load your sandwich up with veggies like lettuce, tomatoes, cucumbers and green peppers. Or, if you're watching your carb intake, you can order nearly any of Subway's sandwiches in salad form. Look for the Black Forest Ham Salad (340 calories) or Veggie Delite salad (284 calories).
Starbucks
Keep the calories low by choosing simple coffee drinks. If you don't like plain black coffee (5 calories), try a nonfat caffé latte (tall size: 100 calories) or a nonfat cappuccino (tall size: 60 calories). For a snack, the Chicken & Hummus Bistro Box with a banana is a safe option (380 calories).
Wendy's
Try a large chili with a garden side salad — remove the croutons — and fat-free French dressing (375 calories). Or, look for the Ultimate Chicken Grill sandwich with apple slices (440 calories).
Chipotle
Full of flavor and low on calories, the vegetarian Burrito Bowl (385 calories) comes with brown rice, black beans, fajita vegetables, lettuce and a chili-corn salsa.
Panera
Order the Power Mediterranean Chicken Salad (400 calories) or try the "You Pick Two" combo with the Low-Fat Vegetarian Black Bean soup (150 calories) and the Mediterranean Veggie Sandwich on tomato basil bread (282 calories).
Contact Us for Healthy Eating Tips
If you recently had bariatric surgery, consider leaving the bread or tortilla off of a wrap or sandwich for a lower-calorie and more comfortable meal. If it has been more than six months since your weight loss procedure, opt for a "topless" or open-faced sandwich, and try to stick to a whole grain choice of bread.
Also, to cut the calories of a fast food salad by almost 50 percent, use only half of the dressing packet.
We will provide more guidelines and other healthy eating tips as part of our comprehensive bariatric surgery program. For more information, please contact TLC Surgery by calling (713) 535-9903 or via email.

WATCH OUR ONLINE
SEMINAR NOW
ONLINE STORE

SHOP NOW
Your BMI:
BMI < 20

underweight

BMI 20 - 24.9

healthy weight

BMI 25 - 29.9

overweight

BMI 30 - 34.9

obesity

BMI 35 - 39.9

severe obesity

BMI 40 - 49.9

morbid obesity

BMI > 50

super morbid obesity