Acid Reflux and GERD (Gastroesophageal Reflux Disease)
The doctors at TLC Surgery, a partner of Nobilis Health, are dedicated to offering comprehensive care for Houston patients. In addition to effective weight loss solutions, we also specialize in treating conditions such as Gastroesophageal Reflux Disease (GERD). Our team offers a range of treatment options for patients suffering from the debilitating effects of acid reflux, chronic heartburn, and GERD. Take Our Free GERD Self Assessment Quiz.
What is GERD?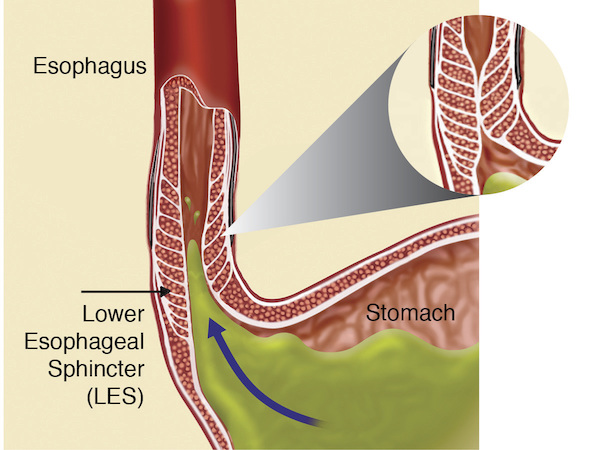 Gastroesophageal Reflux Disease (GERD) is a progressive condition that affects the digestive system. GERD is typically caused by a weakened Lower Esophageal Sphincter (LES), which is a muscle that is located in the lower esophagus. The LES serves the important function of keeping stomach acid where it belongs. When the LES isn't working properly, stomach acid can splash back into the esophagus, resulting in acid reflux. GERD is characterized by chronic acid reflux, which can cause debilitating pain and can also lead to more serious conditions such as esophageal cancer. Learn More About the Connection Between Heartburn and GERD.
Symptoms of GERD
GERD can cause a range of symptoms, including:
Persistent Heartburn
Regurgitation
Difficulty Swallowing
Serious Cough
Difficulty Sleeping
Difficulty Eating
Do you think that you may be experiencing Acid Reflux or GERD? Try checking your symptoms with our Symptom Checker on our Acid Reflux website.
Treatment Options for Acid Reflux and GERD
Medications are available to treat acid reflux symptoms, but patients with GERD may prefer a more permanent solution that addresses the cause of GERD with minimal side effects. Treatment options at TLC in Houston include:
LINX® System
The LINX® Reflux Management System offers a permanent solution to correct a weak LES. In this procedure, a magnetized titanium ring is used to prevent acid reflux. Learn more about the LINX® System.
Transoral Incisionless Fundoplication (TIF)
Transoral Incisionless Fundoplication, known as TIF, is an endoscopic procedure to implant an anti-reflux valve to treat and prevent GERD symptoms. Learn more about TIF.
Hiatal Hernia Repair
A hiatal hernia, which is a bulge in the diaphragm, can cause severe acid reflux. A minimally invasive hiatal hernia repair procedure can reduce GERD symptoms. Learn more about Hiatal Hernia Repair.
Laparoscopic Nissen Fundoplication
Laparoscopic Nissen Fundoplication is a surgical procedure to treat GERD by strengthening the LES. Learn more about Laparoscopic Nissen Fundoplication.
Contact Us
We know that frequent acid reflux, chronic heartburn, and other GERD symptoms can negatively affect your quality of life. If you are suffering with GERD and medication is not providing relief, we can help. Contact us to schedule a consultation.
*Individual Results May Vary

WATCH OUR ONLINE
SEMINAR NOW
ONLINE STORE

SHOP NOW
Your BMI:
BMI < 20

underweight

BMI 20 - 24.9

healthy weight

BMI 25 - 29.9

overweight

BMI 30 - 34.9

obesity

BMI 35 - 39.9

severe obesity

BMI 40 - 49.9

morbid obesity

BMI > 50

super morbid obesity