Acid Reflux and GERD (Gastroesophageal Reflux Disease)
At TLC Surgery, a partner of Nobilis Health, we are invested in the overall well-being of our patients; that's why we offer comprehensive surgeries and procedures for a number of debilitating conditions, including GERD or Gastroesophageal Reflux Disease. Our team of experienced surgeons and professional staff are dedicated to helping those who suffer from GERD Symptoms. Learn more about our Acid Reflux and GERD treatment options from our acid reflux website.
What is GERD?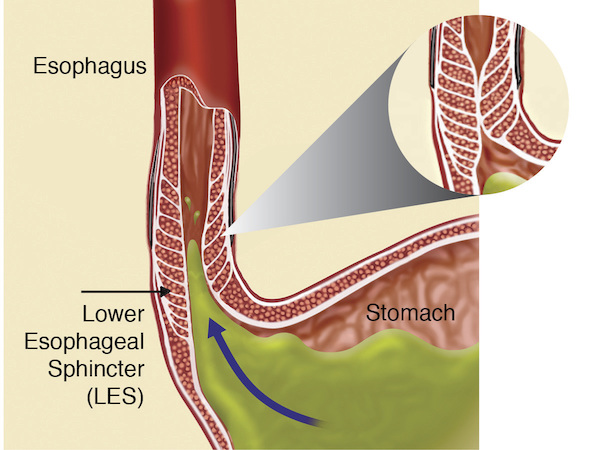 GERD is a serious condition that can cause debilitating pain and can be a precursor to esophageal cancer. GERD is a chronic disease that can often be progressive and is a direct result of a weak Lower Esophageal Sphincter or LES. A key muscle in the lower esophagus, the LES is our body's natural barrier to reflux. When functioning correctly, it closes immediately after swallowing. For those that suffer from GERD, the LES doesn't function correctly, allowing food and bile to travel back up the esophagus causing reflux and other debilitating GERD symptoms.
Symptoms of GERD
GERD Symptoms can include both heartburn and heartburn symptoms such as:
Persistent Heartburn
Regurgitation
Difficulty Swallowing
Serious Cough
Difficulty Sleeping
Difficulty Eating
Do you think that you may be experiencing Acid Reflux or GERD? Try checking your symptoms with our Symptom Checker on our Acid Reflux website.
Treatment Options for Acid Reflux and GERD
Many people suffer from GERD, and if left untreated GERD can lead to more serious medical conditions, including esophageal cancer. There are a number of procedures that can help treat GERD, as opposed to just masking the symptoms like most GERD medications.
LINX® System
The LINX® Reflux Management System is an innovative surgical procedure to permanently treat the underlying causes of GERD symptoms.* This procedure is performed laparoscopically and utilizes magnetized titanium to prevent acid from pushing up through the esophagus. LINX® is often used to treat patients who no longer find relief from medications.
Learn more about the LINX® System
Transoral Incisionless Fundoplication (TIF)
Transoral Incisionless Fundoplication, commonly known as TIF, is a minimally invasive treatment in which an anti-reflux valve is implanted. The procedure is performed through the mouth, with no incisions. TIF treats the underlying issues that cause GERD and can reduce heartburn, coughing and other symptoms.*
Hiatal Hernia Repair
GERD symptoms sometimes occur as a result of a hiatal hernia, which is a hernia that occurs in the opening of the diaphragm. A hiatal hernia repair is a minimally invasive procedure in which the diaphragm opening is narrowed. This procedure can reduce GERD symptoms, along with associated pain and stomach swelling.
Learn more about Hiatal Hernia Repair
Laparoscopic Nissen Fundoplication
Laparoscopic Nissen Fundoplication is considered the standard surgical treatment for severe heartburn, or gastroesophageal reflux disease (GERD). The procedure is performed laparoscopically, allowing patients to recover quickly and with less scarring than an open surgery.
Learn more about Laparoscopic Nissen Fundoplication
Contact Us
If you suffer from chronic acid reflux, or GERD, we can help. There are treatment options that can vastly improve your quality of life.* Contact us today to schedule a consultation.
*Individual Results May Vary

WATCH OUR ONLINE
SEMINAR NOW
ONLINE STORE

SHOP NOW
Your BMI:
BMI < 20

underweight

BMI 20 - 24.9

healthy weight

BMI 25 - 29.9

overweight

BMI 30 - 34.9

obesity

BMI 35 - 39.9

severe obesity

BMI 40 - 49.9

morbid obesity

BMI > 50

super morbid obesity