Weight Loss Surgery Revision
Page Updated:
A Second Chance at Success*
While weight loss surgery is a great step toward a new way of living and embracing health and wellness, the reality is that some bariatric patients aren't able to sustain long-term weight loss. Everyone who undergoes weight loss surgery deserves the chance to accomplish their weight loss goals, and that is why we offer weight loss revision surgery.
Our team of bariatric surgeons and experienced, caring staff will support your weight loss goals and work with you to achieve your greatest health and wellness. Contact us today for more information regarding bariatric revision surgery.
Types of Weight Loss Surgery Revisions: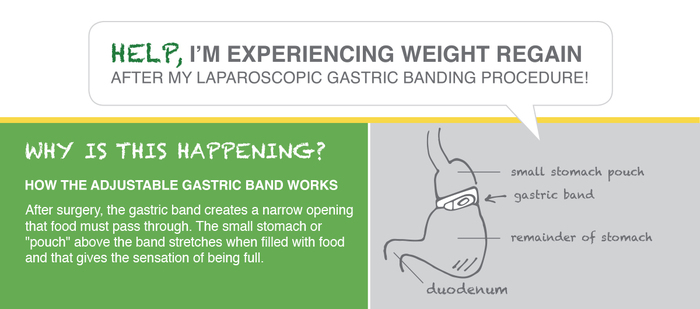 Lap Band Revision Surgery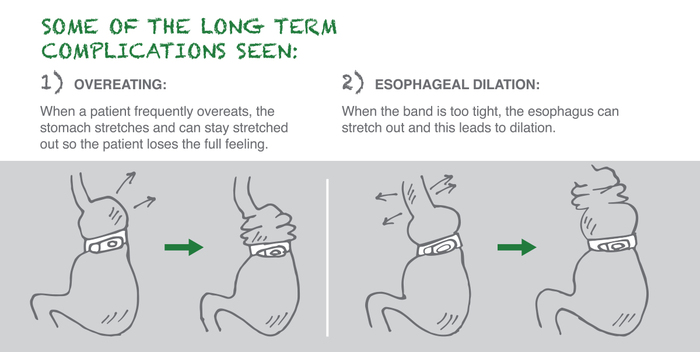 There are a number of reasons why a Lap Band patient might need a revision surgery including lack of weight loss, weight gain or a Lap Band not staying in place. The reason for Lap Band revisions can range from minor to severe, but our team of experienced surgeons will create a custom weight loss program that is best suited to your individual goals.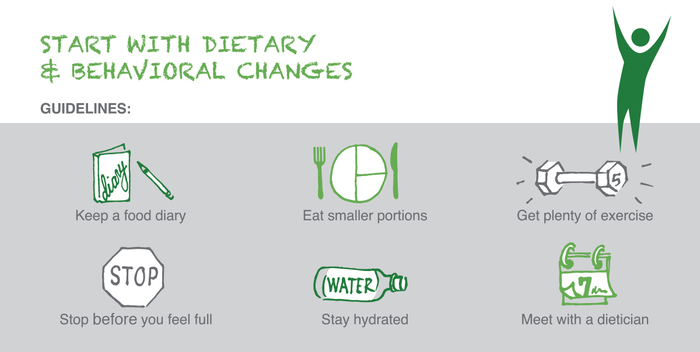 How Does Lap Band Revision Work?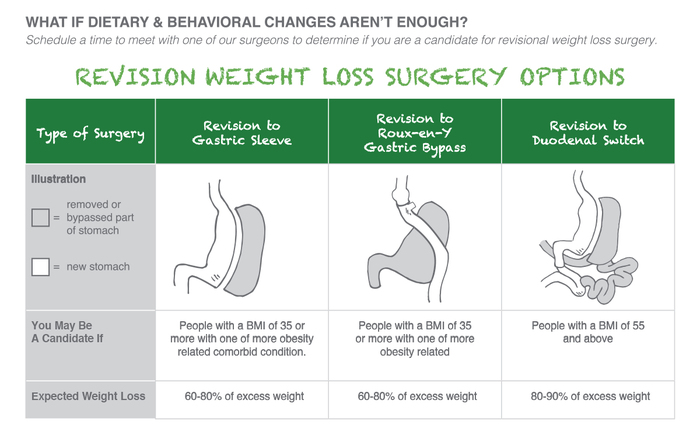 There are a number of options when having a Lap Band revision, including repositioning the band or switching the band to a sleeve; a bypass or duodenal switch for optimal weight loss. If you are experiencing band slippage, reflux or esophageal issues, your Lap Band may need to be removed.
Am I a Candidate for the Lap Band Revision Surgery?*
If you are experiencing weight gain, discomfort, or severe symptoms due to your Lap Band procedure, you will likely be a candidate for a Lap Band revision surgery. If you are experiencing severe symptoms you might need an emergency procedure and it is important that you contact us right away. Contact us today to learn more about which weight loss revision surgery is best for you.
Gastric Sleeve Revision Surgery
Like other bariatric procedures, the success of a Gastric Sleeve relies on a number of factors including changes in your diet and lifestyle.* One of the most common issues facing those who start gaining weight after their Gastric Sleeve surgery is a stretching of the stomach that requires a Gastric Sleeve revision. Fortunately for Gastric Sleeve patients, the procedure to amend stretching of the sleeve is generally an easy process, as resleeving will typically correct this issue.
How Does Gastric Sleeve Revision Work?
The first step in Gastric Sleeve revision surgery is determining with your bariatric surgeon which procedure will best optimize your weight loss. If you have a stretched out sleeve, it might be as easy as a resleeve. Other patients may need a revision that requires a more in depth procedure if their Gastric Sleeve is not allowing for optimal weight loss.
Am I a Candidate for Gastric Sleeve Revision?*
If you haven't reached your weight loss goals or are experiencing protracted reflux you might be a candidate for Gastric Sleeve Revision. There are a number of factors that will determine if you are a candidate for Gastric Sleeve Revision and your weight loss specialist will help to determine what the best option is for you. Whether you need a procedure to revise your sleeve to a gastric bypass to correct dysphagia or reflux, or to a Duodenal Switch to help further weight loss, we offer several bariatric revision surgery options.
Duodenal Switch Revision Surgery
A small percentage of Duodenal Switch recipients need revisions generally due to extreme weight loss or malnutrition. Medical professionals and those working in the health and wellness field continue to learn more about the correlation between weight loss and nutrition, making the need for Duodenal Switch Revision Surgery rare.
How Does Duodenal Switch Revision Surgery Work?
While revisions for this procedure are rare, it is important for you to contact us to speak with our bariatric team if you are experiencing complications from your Duodenal Switch surgery. Contact us today if you have any questions regarding Duodenal Switch Revision.
Am I a Candidate for Duodenal Switch Revision Surgery?*
If you are experiencing malabsorption, insufficient weight loss, or extreme weight loss you might be a candidate for Duodenal Switch Revision Surgery. As you may initially experience issues related to your Duodenal Surgery, it is important to allow adequate time for your intestine to adjust to the procedure. If you are experiencing any issues with your Duodenal Switch contact us so our team of medical professionals can help determine the best solution for optimal weight loss results.
Gastric Bypass Revision Surgery
For a number of Gastric Bypass patients maintaining long term weight loss is an issue. While Gastric Bypass surgery creates a new smaller stomach to help regulate overeating and a new connection with the intestine, called a stoma, over time the stoma can stretch allowing for any lost weight to return. The good news is that Gastric Bypass Revisions revise the stretched stoma, allowing bariatric patients to once again lose weight as long as they are committed to diet and exercise.
How Does Gastric Bypass Revision Work?
For some patients with a stretched stoma, the gastric bypass revision can be a minimally invasive procedure. Some recipients need to have a Gastric Bypass Revision due to malnutrition or to maximize weight loss results. If you are having a Gastric Bypass to maximize weight loss results it may require an additional bariatric procedure.*
Am I a Candidate for Gastric Bypass Revision Surgery?*
You might be a good candidate for Gastric Bypass Revision Surgery if you are experiencing weight gain or malnutrition after your initial Gastric Bypass procedure. Whether or not you are a good candidate for a revision procedure will be up to you and your weight loss specialist; contact us today for more information.
Overstitch Gastric Bypass Revision
Most patients who undergo gastric bypass are able to maintain successful results, but occasionally a patient may eventually experience an enlargement of the stomach pouch or the stoma which can lead to weight gain. Texas Laparoscopic Consultants is pleased to offer an innovative surgery option for patients who find themselves with excess weight after a previous bariatric surgery. This safe and effective endoscopic bariatric revision procedure is designed to reduce the size of an enlarged pouch or stoma.*
How Does Overstitch Revision Work?
The Overstitch procedure is performed endoscopically, which means that a small flexible endoscope is inserted through your mouth while you are asleep. The surgeon uses the endoscope to place stitches around your stomach outlet and around the stomach pouch to reduce the capacity to a size similar to its original post surgery capacity. This procedure leaves no visible scars, and patients usually experience very little postoperative pain and are able to return home the same day.*
Am I a Candidate for the Overstitch Revision Procedure?*
If you had a gastric bypass surgery that was originally successful, but have recently experienced substantial weight gain, then this procedure could be helpful for you. When your original surgery was performed, your stomach was significantly reduced in size to help you feel full longer and with less food, which resulted in weight loss. If your stomach pouch has gradually stretched, then you require more food to feel full and that can contribute to weight gain. Contact us to schedule an appointment to discuss if an Overstitch Revision Procedure is right for you.
Lap Band Over Bypass Procedure
Some patients who have had gastric bypass and either did not lose enough weight or are having significant weight regain may be candidates  for placing a Lap Band around their bypass pouch.
*Individual Results May Vary
The TLC Surgery Doctors have either authored or reviewed and approved this content.

WATCH OUR ONLINE
SEMINAR NOW
ONLINE STORE

SHOP NOW
Your BMI:
BMI < 20

underweight

BMI 20 - 24.9

healthy weight

BMI 25 - 29.9

overweight

BMI 30 - 34.9

obesity

BMI 35 - 39.9

severe obesity

BMI 40 - 49.9

morbid obesity

BMI > 50

super morbid obesity