Gastric Bypass Surgery
Page Updated: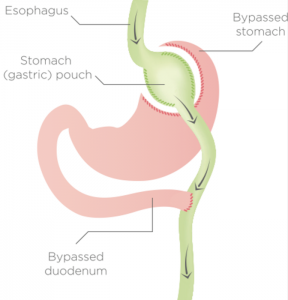 Gastric Bypass is the most commonly performed weight loss surgery, and is well studied and widely regarded as a safe and effective way to lose excess weight and treat obesity related disorders. Gastric Bypass surgery can be performed as an open surgery or as a laparoscopic surgery. The surgeons at Texas Laparoscopic Consultants opt to perform gastric bypass laparoscopically in 98% of cases. Laparoscopic technique leads to shorter recovery time and less scarring, although a patient's medical status will occasionally require a traditional open surgery.
How Does Gastric Bypass Work?
Gastric Bypass works by limiting the body's absorption of calories and by restricting the amount of food the stomach can hold. In a Gastric Bypass procedure the surgeon divides the stomach into two pouches and the smaller pouch is detached from the rest of the stomach and connected to the lower end of the small intestine. The patient then has a much smaller stomach capacity and will feel full with a very small volume of food. Food that is consumed bypasses the upper intestines so that the body absorbs fewer calories.
The Benefits of Gastric Bypass*
Gastric Bypass surgery may lead to significant improvement in obesity related diseases such as Type 2 Diabetes, sleep apnea, hypertension, high cholesterol and high blood pressure 1
Gastric Bypass may be an option for patients who are not candidates for Gastric Band procedures
Patients  typically report a great improvement in overall quality of life*
Am I a Candidate for Gastric Bypass?*
Gastric Bypass surgery is a life changing procedure for people seeking a treatment for obesity and help starting a more active lifestyle. Candidates for Gastric Bypass:
May suffer from severe acid reflux or Barrett's Disease
Struggle to lose weight and control eating habits on their own
Are ready to commit to a new diet and exercise routine, and are able to follow all post-operative instructions
Learn more about Gastric Bypass
Our surgeons are highly skilled in Gastric Bypass and they will work with you to explain how the process could work for you. If you think that Gastric Bypass surgery might be the answer for you, contact us to discuss your options.
1Journal of the American Medical Association. 2004 Oct 13;292(14):1724-37.
*Individual Results May Vary
The TLC Surgery Doctors have either authored or reviewed and approved this content.

WATCH OUR ONLINE
SEMINAR NOW
ONLINE STORE

SHOP NOW
Your BMI:
BMI < 20

underweight

BMI 20 - 24.9

healthy weight

BMI 25 - 29.9

overweight

BMI 30 - 34.9

obesity

BMI 35 - 39.9

severe obesity

BMI 40 - 49.9

morbid obesity

BMI > 50

super morbid obesity