Duodenal Switch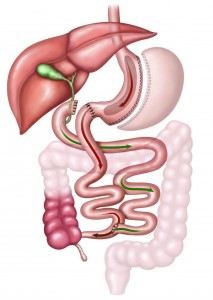 Biliopancreatic Diversion with Duodenal Switch (BPD) is a bariatric surgery that is both restrictive and malabsorptive, which means that it reduces a patient's capacity for food and also changes the way that calories and nutrients are absorbed by the body. This surgery has been shown to be effective for patients with severe morbid obesity.
How does Duodenal Switch work?
In most cases, the Duodenal Switch procedure can be done with laparoscopic technique to minimize scarring and improve recovery time. A portion of the stomach is removed and this creates a smaller capacity for food, reducing the amount that a patient can eat in one sitting. A portion of the small intestine, called the duodenum, is divided and redirected, circumventing pancreatic and bile drainage. This step changes the way the body digests food so that fewer calories are absorbed.
*The benefits of Duodenal Switch
Biliopancreatic Diversion with Duodenal Switch resolves 99.1% of hyperlipidemia
Among bariatric surgeries, BPD has the highest rate of reversing Type 2 Diabetes, at 99%
Highly effective in improving or curing obesity related health conditions such as Type 2 diabetes, sleep apnea, hypertension, high cholesterol and high blood pressure.
Studies show excellent results in reversal rates of other obesity related diseases such as hypertension and sleep apnea
Patients are able to eat larger meals than with some other bariatric surgeries, which can be helpful when adjusting to a new dietary plan
Patients lose, on average, 80% to 90% of their excess weight
*Individual Results May Vary
*Am I a candidate for Duodenal Switch?
Duodenal Switch is a surgical option for patients with severe morbid obesity. As with any surgery, there are risks and medical factors to consider. However, the effectiveness of Duodenal Switch to improve and cure critical obesity related conditions is an important advantage to patients suffering with obesity. Patients report a vast improvement to their quality of life after BPD. As with all weight loss surgeries, patients must be prepared to follow all dietary instructions and devote energy to living a healthier lifestyle.
*Individual Results May Vary
Learn more about Duodenal Switch
The team at Texas Laparoscopic Consultants is committed to improving the lives of patients. Our renowned surgeons can discuss all available options to find the weight loss procedure that is right for you. Contact us today to learn more.

WATCH OUR ONLINE
SEMINAR NOW
ONLINE STORE

SHOP NOW
Your BMI:
BMI < 20

underweight

BMI 20 - 24.9

healthy weight

BMI 25 - 29.9

overweight

BMI 30 - 34.9

obesity

BMI 35 - 39.9

severe obesity

BMI 40 - 49.9

morbid obesity

BMI > 50

super morbid obesity
THE TLC DIFFERENCE
Discover what sets TLC apart from other bariatric practices.
Learn more