TLC Blog
Creamy Cauliflower Soup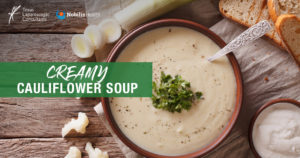 Ingredients:
1/4 cup raw cashews

2 Tbs olive oil

1/2 small white onion, diced

2 cloves garlic, minced

1 medium cauliflower, cut into 2 inch chunks

2 Tbs tahini (sesame paste)

salt and pepper to taste
Directions:
soak raw cashews covered in water for 8hours or over night, then drain well.

Heat oil in dutch oven over medium heat, and saute onions and garlic until softened, about 5 minutes

add 4 cups of water to pot, along with chopped cauliflower, soaked and drained cashews and bring to a boil

reduce heat and let simmer until cauliflower is fork tender, about 15-20minutes.

Remove soup with heat and let cool for 10 minutes. stir in tahini

Transfer soup to a blender or using a handheld immersion blender, pureed until soup.

Season with salt and pepper to taste.

Optional: dollop plain greek yogurt on top and sprinkle fresh chopped parsley. Serve with high fiber crackers

WATCH OUR ONLINE
SEMINAR NOW
ONLINE STORE

SHOP NOW
Your BMI:
BMI < 20

underweight

BMI 20 - 24.9

healthy weight

BMI 25 - 29.9

overweight

BMI 30 - 34.9

obesity

BMI 35 - 39.9

severe obesity

BMI 40 - 49.9

morbid obesity

BMI > 50

super morbid obesity
THE TLC DIFFERENCE
Discover what sets TLC apart from other bariatric practices.
Learn more