Black Bean Dip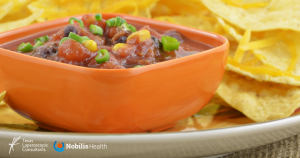 Ingredients
16 oz cream cheese, fat free, 1 can (15 oz) black beans, drained and rinsed, 1 cup reduced fat cheddar cheese
6 green onions, chopped, 1-1/2 teaspoons ground cumin, Dash cayenne pepper, 2 Tbsp. tomato, diced
Instructions
Process cream cheese in a food processor until smooth. Add 1/2 of the black
beans and process until smooth. Place mixture in a medium sized mixing bowl
and add 3/4 cup cheese (reserving 1/4 cup for garnish), chopped onion (reserving 2
tablespoons for garnish), cumin, cayenne pepper and remaining beans. Garnish
with tomato, cheese and onions. Cover and refrigerate. Best flavors after 8
hours of refrigeration. Serve with baked tortilla chips.

WATCH OUR ONLINE
SEMINAR NOW
ONLINE STORE

SHOP NOW
Your BMI:
BMI < 20

underweight

BMI 20 - 24.9

healthy weight

BMI 25 - 29.9

overweight

BMI 30 - 34.9

obesity

BMI 35 - 39.9

severe obesity

BMI 40 - 49.9

morbid obesity

BMI > 50

super morbid obesity
THE TLC DIFFERENCE
Discover what sets TLC apart from other bariatric practices.
Learn more