Black Bean Dip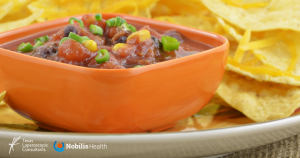 Ingredients
16 oz cream cheese, fat free, 1 can (15 oz) black beans, drained and rinsed, 1 cup reduced fat cheddar cheese
6 green onions, chopped, 1-1/2 teaspoons ground cumin, Dash cayenne pepper, 2 Tbsp. tomato, diced
Instructions
Process cream cheese in a food processor until smooth. Add 1/2 of the black
beans and process until smooth. Place mixture in a medium sized mixing bowl
and add 3/4 cup cheese (reserving 1/4 cup for garnish), chopped onion (reserving 2
tablespoons for garnish), cumin, cayenne pepper and remaining beans. Garnish
with tomato, cheese and onions. Cover and refrigerate. Best flavors after 8
hours of refrigeration. Serve with baked tortilla chips.
The TLC Surgery Doctors have either authored or reviewed and approved this content.

WATCH OUR ONLINE
SEMINAR NOW
ONLINE STORE

SHOP NOW
Your BMI:
BMI < 20

underweight

BMI 20 - 24.9

healthy weight

BMI 25 - 29.9

overweight

BMI 30 - 34.9

obesity

BMI 35 - 39.9

severe obesity

BMI 40 - 49.9

morbid obesity

BMI > 50

super morbid obesity