Salmon Patties with Dill Cashew Cream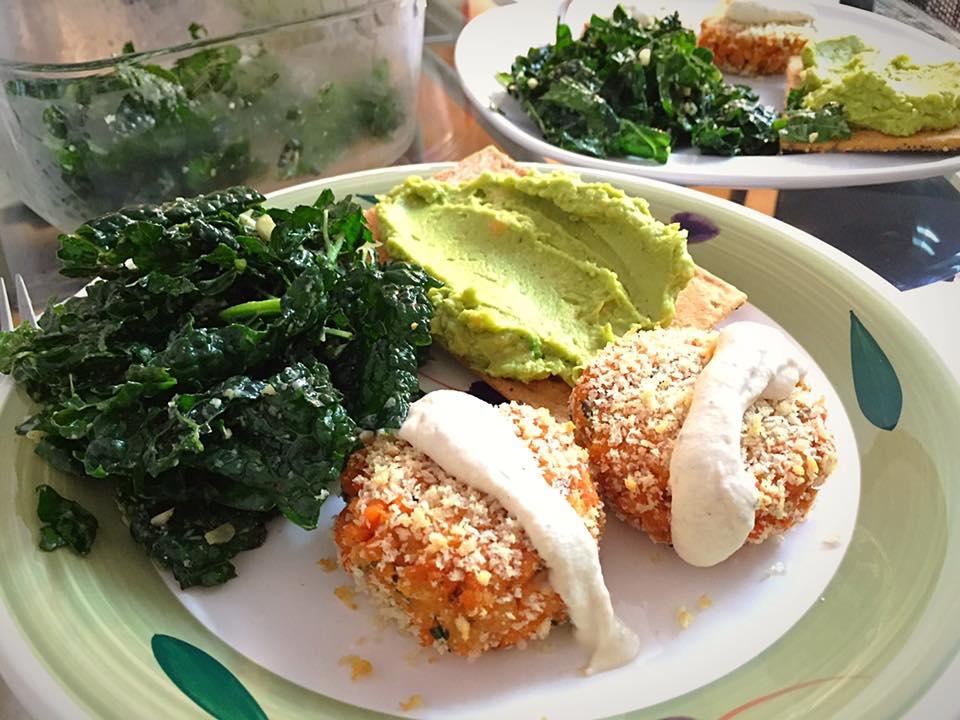 Salmon Patty Ingredients:
2 6oz cans of salmon, drained, remove any visible skin (pink salmon, sockeye)
½ cup panko breadcrumbs, plus 1 cup extra for coating
1 large shallot, minced
¼ cup minced herbs (dill or parsley)
¼ cup mayonnaise
1 large egg
2 teaspoons Dijon mustard
Canola oil
Instructions:
1. Combine flaked salmon, bread crumbs, shallot, and herbs in a medium mixing bowl
2. Whisk together the mayonnaise, egg, and mustard in a small bowl, then pour on top of the salmon. Gently stir until everything is evenly mixed.
3. Using a spring loaded ice cream scooper or ¼-cup measuring cup, shape salmon mixture into small patties.
4. Place them on a plate or baking sheet, spaced a little apart. At this point, the patties will feel very loose and wet; transfer the patties to the refrigerator and chill for at least 15 minutes (or cover and refrigerate for up to a day). This help firm up the fish cakes and makes them easier to handle.
5. While the fish cakes chill, make cashew cream sauce.
6. Preheat oven to 425°F. Layer a baking sheet with foil and brush with a thin film of oil.
7. In a shallow bowl or plate, pour in about 1 cup breadcrumps
8. Remove patties from refrigerator. Gently brush both sides of a patty with oil, then coat with breadcrumbs. Place each patty on prepared baking sheet, spaced at least 1 inch a part.
9. Bake for 15-20minutes or until breadcrumbs become slightly golden and patties are heated through.
10. Transfer the patties to serving plates, top with cashew cream sauce.
Recipe adapted from The Kitchn by Emma Christensen October 2015
Dairy Free Dill Cashew Cream
Ingredients:
2 cups raw cashews
1 cup water, plus more to cover cashews
Pinch of salt
Juice of ½ lemon
2 teaspoons dry dill weed
1 clove of garlic
Instructions:
1. In a container with a lid, add water to cover cashews and let soak overnight to soften the nuts. This recipe will also work if you forgot to soak the nuts, but blending them will take a bit longer.
2. Drain cashews and add them to a food processor or hand blender/immersion blender.
3. Start with adding ½ cup of water, salt, lemon juice, and garlic to cashews. Pulse in blender until smooth. Add more water, if needed, to desired consistency.
4. Stir in dill until evenly distributed.
Recipe adapted from Zest for Life: The Mediterranean Anti-Cancer Diet by Conner Middelmann-Whitney
Optional Side Dish
Avocado and Chickpea Mash
Pureed 1 can drained chickpeas
pureed 1 avocado into chickpeas
Add juice of 1 lemon, salt and pepper
Spread on your favorite high fiber cracker for a high protein, high fiber snack!
The TLC Surgery Doctors have either authored or reviewed and approved this content.

WATCH OUR ONLINE
SEMINAR NOW
ONLINE STORE

SHOP NOW
Your BMI:
BMI < 20

underweight

BMI 20 - 24.9

healthy weight

BMI 25 - 29.9

overweight

BMI 30 - 34.9

obesity

BMI 35 - 39.9

severe obesity

BMI 40 - 49.9

morbid obesity

BMI > 50

super morbid obesity