Healthy Green Bean Casserole
Page Updated: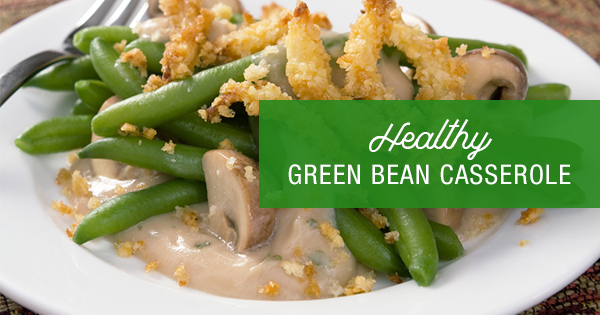 Ingredients
1.5 lbs fresh green beans
2 tsp olive oil
8 ounces mushrooms (any kind), chopped
6 cloves garlic, minced
1tsp dried thyme
1.5 cups 2% milk
1 cup low-fat plain Greek yogurt
3 tbsp all purpose flour
1/2 cup finely chopped parsley
Pinch of salt & pepper
1 cup French fried onions
Instructions
Preheat oven and lightly oil a 2 quart baking dish. In a large pot, steam green beans over boiling water for 5minutes until slightly tender then drain (don't over-cook – they will cook some more in the oven!) In a large frying pan, heat oil and sauté mushrooms until they begin to release liquid. Stir in garlic and thyme for 10 seconds. Sprinkle flour into pan and stir to soak up any remaining liquid. Pour in milk, sprinkle in salt and pepper, and use a whisk to break up lumps of flour. Whisk constantly until mixture thickens. Once thickened, remove pan from heat and stir in Greek yogurt. Toss green beans into mushroom cream and spoon into prepared baking pan. Top with fried onions. Bake uncovered for 15-20 minutes or until green beans are tender. *Recipe adapted from MyFitnessPal
The TLC Surgery Doctors have either authored or reviewed and approved this content.

WATCH OUR ONLINE
SEMINAR NOW
ONLINE STORE

SHOP NOW
Your BMI:
BMI < 20

underweight

BMI 20 - 24.9

healthy weight

BMI 25 - 29.9

overweight

BMI 30 - 34.9

obesity

BMI 35 - 39.9

severe obesity

BMI 40 - 49.9

morbid obesity

BMI > 50

super morbid obesity