Vegetable Kabobs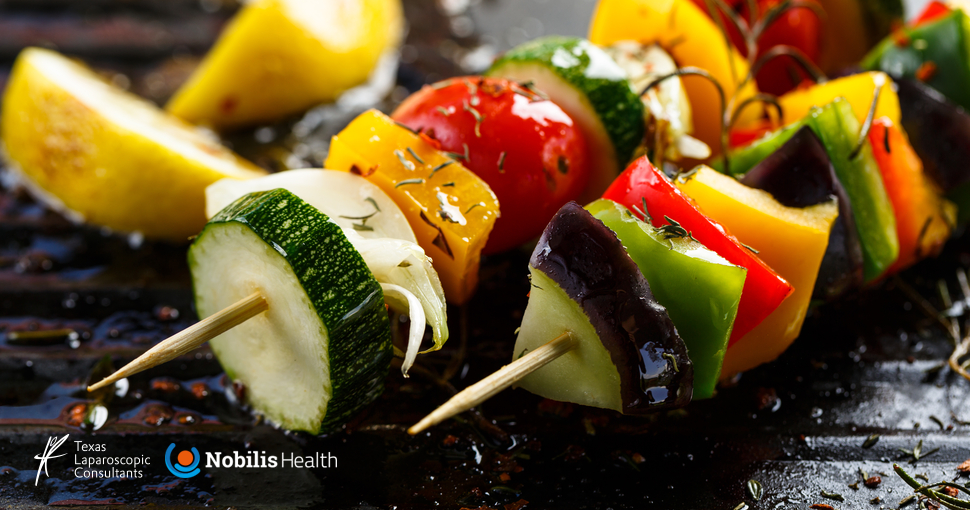 Ingredients
24 small mushrooms, whole, 2 cups yellow squash, sliced, 2 cups zucchini, sliced
12 medium green onions, trimmed, 2 large red bell peppers, cut in 1/2" strips, 2/3 cup rice vinegar, 2 tbsp. fresh lemon juice
2 tbsp. Dijon mustard, 1 tbsp. dark sesame oil, 1/4 tsp. salt, 1/4 tsp. pepper, 4 cloves garlic, minced
Instructions
Combine all the ingredients in a large heavy-duty zip-top plastic bag. Seal bag, and marinate vegetables for 30 minutes, turning bag occasionally.
Remove vegetables from bag, reserving marinade. Using 6 skewers, alternately thread the mushrooms, squash, zucchini, green onions, and red peppers, leaving about 1/4" between the pieces.
Place vegetable skewers on the rack of an uncovered grill. Grill over mediumcoals until vegetables are tender. Be careful not to over cook vegetables.
Place reserved marinade in a small saucepan; cook over medium heat 3
minutes. Pour warm marinade over grilled vegetables.

WATCH OUR ONLINE
SEMINAR NOW
ONLINE STORE

SHOP NOW
Your BMI:
BMI < 20

underweight

BMI 20 - 24.9

healthy weight

BMI 25 - 29.9

overweight

BMI 30 - 34.9

obesity

BMI 35 - 39.9

severe obesity

BMI 40 - 49.9

morbid obesity

BMI > 50

super morbid obesity
THE TLC DIFFERENCE
Discover what sets TLC apart from other bariatric practices.
Learn more