TLC Blog
5 Tips on Getting Physical at Work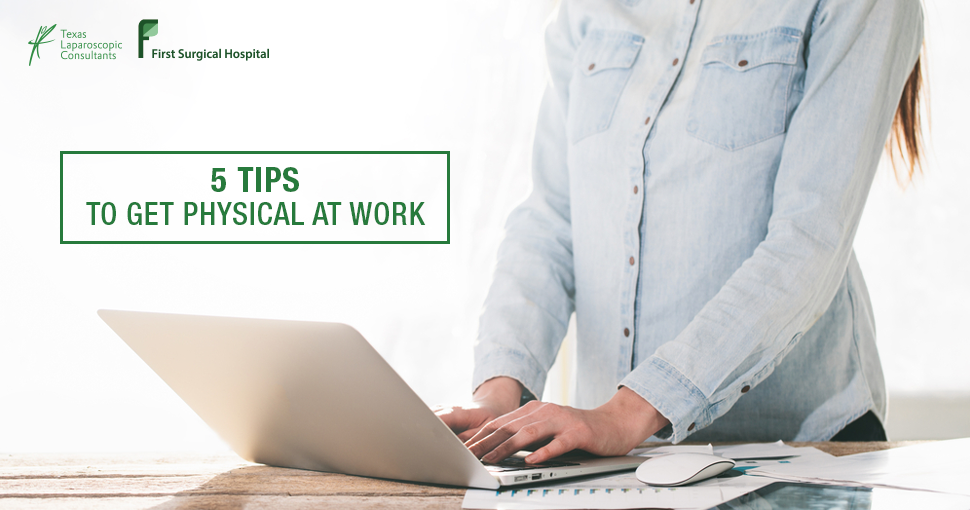 I mean getting physically active, that is.
Not moving for long periods of time has continued to negatively impact our health and longevity. Even if you exercise for 30 minutes every day, it is still not enough to protect you from disease. Increased sitting has been linked to increased risk for type 2 diabetes and heart disease. The goal is to move more throughout the entire day, not just once a day. Here are some tips to get you off your bum and moving more during your workday at the office.
– Every 30 minutes: Set a timer, via a free smartphone app or on your computer, as a reminder to stand up, and refresh your body and blood circulation by stretching your arms, back and waist.
– Lunch walks: Get some fresh air and sunshine, or just get away from your desk to clear your mind by taking 5-10 minute walks before and after your lunch break. Walking after meals can also help with digestion and decrease acid reflux.
– Take the long route: Go the distance by walking a few more steps to a further restroom, water cooler, or copy machine.
– Stand to use your computer: Elevate your computer to standing height, and take a sit-down break every 30 minutes.
– 5 minute walking loop with stairs: From your office, head down the hall towards the stairwell, take a one flight of stairs either up or down to the next floor, and walk down the hall to the opposite stairwell. Take the stairs back to your floor and repeat if time permits.

WATCH OUR ONLINE
SEMINAR NOW
ONLINE STORE

SHOP NOW
Your BMI:
BMI < 20

underweight

BMI 20 - 24.9

healthy weight

BMI 25 - 29.9

overweight

BMI 30 - 34.9

obesity

BMI 35 - 39.9

severe obesity

BMI 40 - 49.9

morbid obesity

BMI > 50

super morbid obesity