TLC Blog
Avoiding Workplace Temptations after Weight Loss Surgery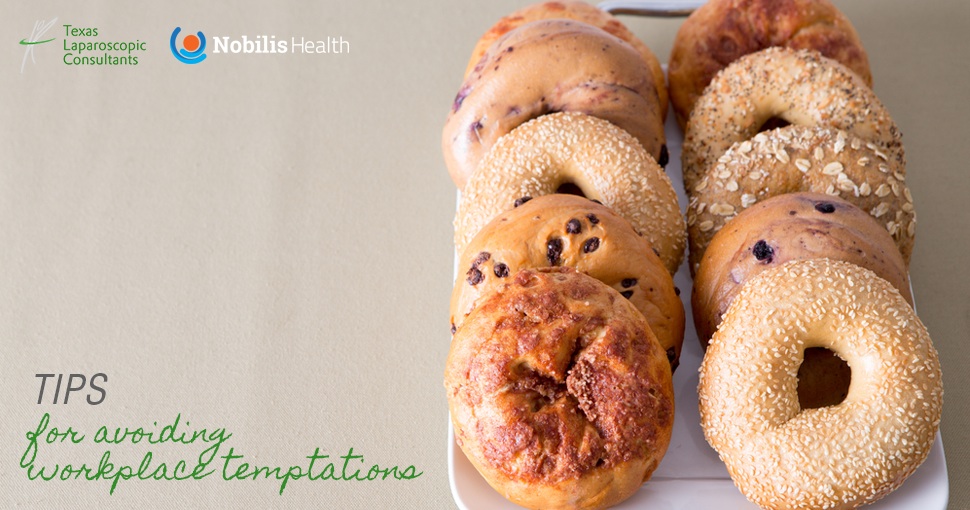 The temptation to cheat on a post-bariatric diet is everywhere, but the workplace is one of the likeliest places that a patient will slip up. This is true for several reasons:
Employees spend an average of 40 hours a week in the office.
Coworkers may apply peer pressure during mealtimes or social outings.
Work can be stressful or busy, and lead to emotional eating.
The Texas Laparoscopic Consultants team has a few suggestions for circumventing workplace temptations and "staying the course" of a post-surgery diet.
Talk to Your Coworkers
Start an open dialogue with coworkers you are close to about your weight loss journey. Once they know your goals, they can be a great source of support and motivation. You might even learn that some of them have similar weight loss goals, and you can work together to practice healthy eating and exercise habits.
Plan Meals Ahead of Time
Planning and preparing meals is critical to avoiding temptation. Bringing a packed lunch to work eliminates the need to order take-out or head to the drive-thru. It also lets you control the ingredients and portion size.
If you're heading to a networking event after work, fill up beforehand with a healthy snack. Don't let the tray-passed appetizers or open bar tempt you.
Go for a Walk at Lunch
Stay out of the communal office kitchen at lunchtime, where generous coworkers might be sharing a pizza or greasy take-out. Instead, take a walk around the neighborhood while listening to a podcast or your favorite music. Or, look for a yoga studio nearby that offers midday classes. Worried about missing lunchtime camaraderie? Invite a coworker to join you!
Contribute to Potlucks
Bring a healthy dish or two to a workplace potluck event to ensure there is something there you can eat. A platter of fresh fruit or crudité with hummus is a potluck classic, and weight loss friendly.
Suggest an Alternative to Happy Hour
Happy hours are common among coworkers, but usually centered around eating or drinking. Why not suggest an alternative activity you can enjoy together, such as volunteering, or exploring a nearby museum?
Have a Professional Support Team in Place
If you're under a lot of stress at work, enlist the help of a psychologist that can help you through it. You will learn activities to relieve stress, increase productivity and prevent emotional binge eating.
Be Kind to Yourself
Did you have a slip up at a company happy hour or potluck? No big deal. One mistake won't throw off your results. Commit yourself to getting back on track. Tomorrow is a new day.
Need more tips for adapting to life after weight loss surgery? Contact the Texas Laparoscopic Consultants team by calling (713) 766-4814 or sending an email.

WATCH OUR ONLINE
SEMINAR NOW
ONLINE STORE

SHOP NOW
Your BMI:
BMI < 20

underweight

BMI 20 - 24.9

healthy weight

BMI 25 - 29.9

overweight

BMI 30 - 34.9

obesity

BMI 35 - 39.9

severe obesity

BMI 40 - 49.9

morbid obesity

BMI > 50

super morbid obesity