TLC Blog
Can Weight Loss Surgery Curb Asthma?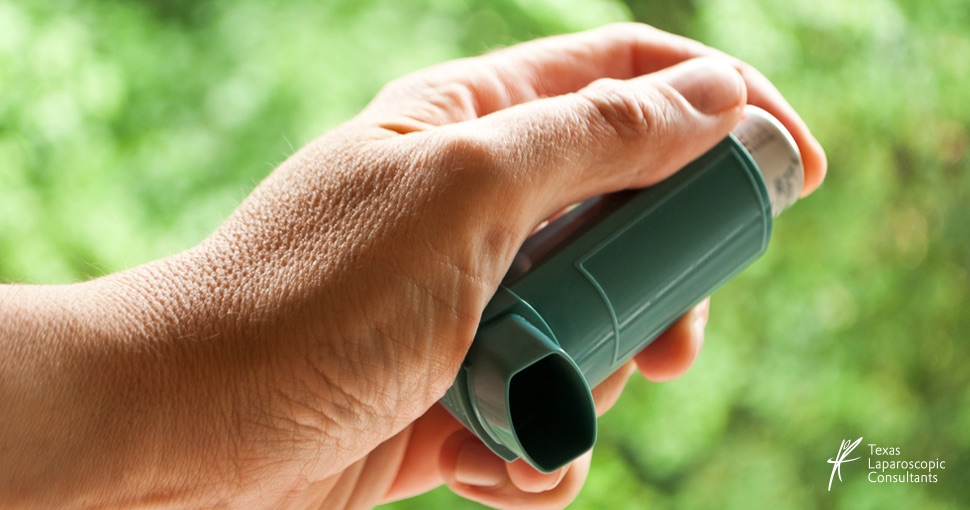 According to the U.S. National Heart, Lung and Blood Institute, asthma affects nearly 25 million people in the United States. Individuals that are obese are at a heightened risk of developing asthma, a chronic condition in which the airways narrow and produce extra mucus that can cause shortness of breath, coughing and wheezing.
New research shows a promising link between weight loss surgery and a reduction in asthma flare-ups. Here, the Texas Laparoscopic Consultants team explores the research, and what it could mean for individuals that struggle with obesity and asthma.
Association between Weight Loss Surgery and Fewer Asthma Flare-Ups
The study, led by Dr. Kohei Hasegawa, a physician at Massachusetts General Hospital in Boston, examined data from nearly 2,300 obese patients with asthma. The subjects were between the ages of 18 and 54, and all had weight loss surgery between 2007 and 2009.
Specifically, the research team looked at the number of asthma-related emergency room visits in the test subjects. Prior to weight loss surgery, 22 percent of the group visited the emergency room or were hospitalized at least once due to asthma-related reasons.
In the two years following surgery, only 11 percent of the group had an asthma-related ER visit or hospitalization.
"These data suggest substantial weight loss is needed to lower the asthma risk," said Dr. Hasegawa.
When diet and exercise fail to produce the desired weight loss results, surgical solutions are a wonderful alternative (for the right candidates). The TLC team prefers to use laparoscopic surgical techniques, which shorten recovery times, lessen post-operative discomfort and reduce the risks of surgery.
How Does Obesity Lead to Asthma?
The connection between obesity and asthma is complex and still being studied. There are several theories circulating as to why obesity heightens the risk of developing asthma symptoms.
One of the prominent theories is that inflammation, caused by a chemical that fat cells release called interleukins, leads to asthmatic symptoms. Another theory is that obesity may limit the expansion of the lungs and impair lung function. People with obesity may have less-elastic chest walls, which leads to shortness of breath. Other experts believe that obesity's effect on other diseases (especially gastroesophageal reflux disorder, or GERD) influences asthma.
Explore Your Weight Loss Surgery Options
Asthma and GERD are not the only weight-related health conditions. Obesity raises the risk of many life-threatening diseases, including diabetes, heart disease and sleep apnea.
Just as the asthma study suggests, weight loss surgery can reduce the risks of these dangerous diseases, and lead to improved overall health.
To learn more about the surgical weight loss options, including gastric sleeve, gastric bypass and adjustable gastric banding, please contact the Texas Laparoscopic Consultants team.

WATCH OUR ONLINE
SEMINAR NOW
ONLINE STORE

SHOP NOW
Your BMI:
BMI < 20

underweight

BMI 20 - 24.9

healthy weight

BMI 25 - 29.9

overweight

BMI 30 - 34.9

obesity

BMI 35 - 39.9

severe obesity

BMI 40 - 49.9

morbid obesity

BMI > 50

super morbid obesity