TLC Blog
Meat-Free Healthy Meals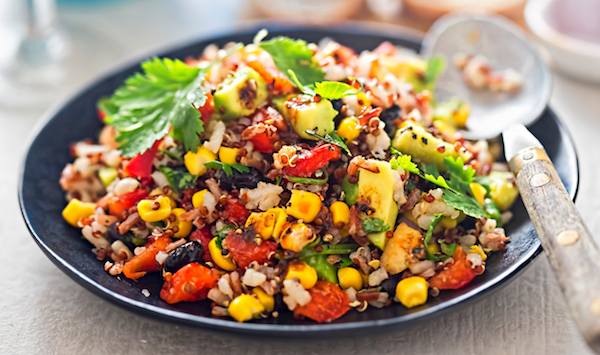 Are you a vegetarian, or a meat-eater who occasionally enjoys a meat-free meal? Sometimes it's fun to look for creative, non-meat sources of protein. The Texas Laparoscopic Consultants team has curated a list of healthy, meat-free meals for you to enjoy.
Chickpea Curry with Coconut Rice
Slice up two leeks and half a red pepper and stir into a skillet with a bit of coconut oil. Add garlic, grated ginger and red curry paste to the mix and cook for five minutes. Then, add some cut-up sugar snap peas and coconut milk. Bring the mixture to a boil, cover and reduce heat. Stir in cooked chickpeas and some cilantro and cook for a few more minutes. Serve the curry over coconut rice, made with jasmine rice, coconut milk, coconut water and salt.
Stir Fry
Swap out pork or beef for pieces of roasted tofu in this delicious stir fry. Add vegetables you have on hand (e.g., green beans, carrots, bell pepper) and sauté in sesame oil. Mix up a quick sauce using soy sauce, grated ginger, brown sugar, maple syrup and cornstarch and stir into the mixture. If you like, serve over brown rice.
Potato, Leek and Feta Tart
Cook half-moon-shaped pieces of zucchini and leek in a skillet with salt and pepper, then stir in crumbled Feta cheese. Add two Red Bliss potatoes (sliced up) to the mixture. Roll out a store-bought piecrust and spoon the veggie-cheese mixture into it, folding the edges over. Bake until the tart looks golden-brown and the potatoes are tender.
Quinoa with Edamame, Parmesan and Egg
Add shelled, cooked edamame to cooked quinoa and toss with olive oil, salt and pepper. Use a vegetable peeler to shave a piece of Parmigiano Reggiano into large pieces, and sprinkle the cheese over the quinoa. Then, top with a fried egg and drizzle with a little more olive oil.
Corn and Black Bean-Stuffed Tomatoes
Slice the tops off of beefsteak tomatoes and scoop out the flesh. Heat up corn kernels and scallion whites until crisp-tender, then stir in chopped jalapeno, black beans, cheddar cheese, breadcrumbs and lime juice. Fill the tomatoes with the corn mixture and brush the outsides with olive oil. Top the tomatoes with extra cheddar cheese, breadcrumbs and olive oil and bake until the tomatoes are soft and the breadcrumbs look golden-brown.
Ravioli with Tomatoes, White Beans and Escarole
Cook four-cheese ravioli and set aside. Combine Great Northern or navy beans with diced tomatoes, basil, oregano and crushed red pepper in a saucepan, bring to a boil and stir in chopped escarole or spinach. Cover the mixture and simmer for a few minutes, until the escarole is wilted. Then, stir in pasta and water, cook until thoroughly heated. Sprinkle grated Asiago cheese on top before serving.
Need Nutrition Advice?
If you've recently had weight loss surgery, you may need to avoid some of the foods used in these recipes. You also need to practice portion control to achieve optimal weight loss results and avoid unpleasant gastrointestinal symptoms. Be sure to check with the TLC team for dietary guidelines. Call (713) 535-9903 or send us an email today.

WATCH OUR ONLINE
SEMINAR NOW
ONLINE STORE

SHOP NOW
Your BMI:
BMI < 20

underweight

BMI 20 - 24.9

healthy weight

BMI 25 - 29.9

overweight

BMI 30 - 34.9

obesity

BMI 35 - 39.9

severe obesity

BMI 40 - 49.9

morbid obesity

BMI > 50

super morbid obesity