Meet Dr. Terry Scarborough
Terry Scarborough, M.D, FACS.
Board-Certified Surgeon, American Board of Surgery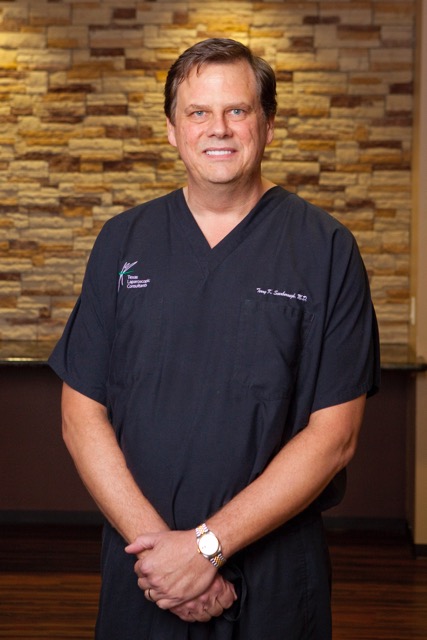 Dr. Terry Scarborough is a pioneer in the field of laparoscopic surgery. He has been practicing laparoscopic and bariatric surgery since 1999 and has performed thousands of successful laparoscopic procedures and bariatric surgeries. Dr. Scarborough, a native of Clovis, New Mexico, been named one of America's Top Surgeons by Consumer's Research Council of America and has also been recognized as a Centers of Excellence Surgeon by the Surgical Review Corporation. Dr. Scarborough is dedicated to providing comprehensive care by practicing the most innovative and minimally invasive surgery techniques available. He believes that bariatric surgery has the power to improve the health, well-being, and quality of life for patients suffering with obesity.
Education and Experience
Dr. Scarborough graduated with honors from the University of New Mexico with a degree in Pharmacy. He earned his medical degree with honors from the University of New Mexico School of Medicine. Dr. Scarborough performed his surgical residency and a year-long fellowship in laparoscopic surgery at Baylor University. During his fellowship, he authored several articles in the discipline of laparoscopic surgery. Dr. Scarborough went on to join New Mexico Surgical Associates in Albuquerque, where he performed New Mexico's first laparoscopic kidney transplant. He later became a fellowship director in laparoscopic surgery at the University of Texas Medical School, where he received award for his outstanding work. Dr. Scarborough has received specialized training in laparoscopic gastric bypass. In 2008 Dr. Scarborough joined Dr. Sherman Yu to establish Texas Laparoscopic Consultants as a destination for laparoscopic weight loss surgery in Houston.
Credentials and Memberships
American Society of Metabolic and Bariatric Surgery
American College of Surgeons
Society of American Gastrointestinal and Endoscopic Surgeons
American Medical Association
Southwestern Surgical Society
Schedule a Consultation with Dr. Scarborough
Please contact us to set up a consultation with Dr. Scarborough or for more information on Texas Laparoscopic Consultants, a partner of Nobilis Health.

WATCH OUR ONLINE
SEMINAR NOW
ONLINE STORE

SHOP NOW
Your BMI:
BMI < 20

underweight

BMI 20 - 24.9

healthy weight

BMI 25 - 29.9

overweight

BMI 30 - 34.9

obesity

BMI 35 - 39.9

severe obesity

BMI 40 - 49.9

morbid obesity

BMI > 50

super morbid obesity