CranApple Pork Tenderloins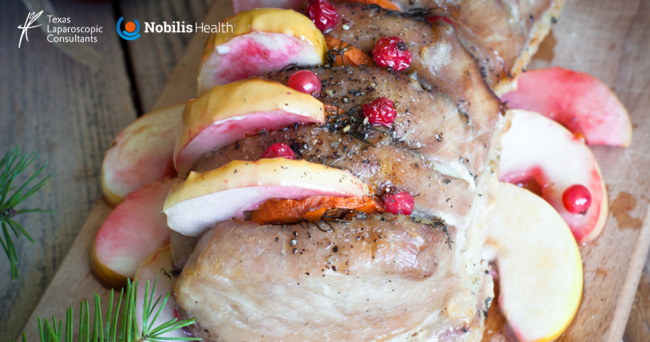 Ingredients
1 cup cranberries, fresh, 1 cup cooking apples, coarsely chopped and peeled, 2/3 cup Splenda®, 1/2 cup water
1/4 cup onion, chopped, 1 tablespoon fresh ginger, minced and peeled, 1 teaspoon curry powder, 1/8 teaspoon ground red pepper
2 (3/4-pound) pork tenderloins, 1/4 teaspoon salt, 1/4 teaspoon black pepper, cooking spray
Instructions
Preheat oven to 350°. Combine the first 8 ingredients in a small saucepan and
bring to a boil. Reduce heat, cover and simmer for 20 minutes. Uncover and
simmer for 2 minutes or until thick. Cool 10 minutes. Place mixture in a blender
or food processor and process until smooth. Trim fat from pork and sprinkle with
salt and pepper. Divide cranberry mixture in half. Brush pork with half of the
cranberry mixture.
Place pork on a broiler pan coated with cooking spray. Bake at 350° for 30
minutes or until thermometer registers 160°. (Slightly pink). Serve pork with
remaining cranberry sauce.

WATCH OUR ONLINE
SEMINAR NOW
ONLINE STORE

SHOP NOW
Your BMI:
BMI < 20

underweight

BMI 20 - 24.9

healthy weight

BMI 25 - 29.9

overweight

BMI 30 - 34.9

obesity

BMI 35 - 39.9

severe obesity

BMI 40 - 49.9

morbid obesity

BMI > 50

super morbid obesity
THE TLC DIFFERENCE
Discover what sets TLC apart from other bariatric practices.
Learn more